Welcome back to the Conan Exiles community spotlight! If you're new around here this is the place where we highlight some of the cool things that have been happening in the Conan Exiles community. Everything from screenshots to artwork, videos, streamers and awesome mods will be at home here, so feel free to send in suggestions on what we could feature here.
By the Grace of Yog
We're going to start this spotlight strong with an amazing one of a kind Yog plushy! Crocheted lovingly by "Midsummer1942", this Yog radiates both cuteness and destructiveness. You can't help but want to give it a big hug! Check out their website for more pictures. We may have to get one for the office….
Ready for Launch
T-9 minutes and counting.
Automatic ground launch sequencer started.
Crew members close and lock their visors.
Solid rocket booster ignition.
Liftoff!
Congratulations on your successful launch, SinumNagk!
Mod of the Week
The Barbarian shirts are finally here! Kind of! You can now walk around the exiled lands in style with a completely dyeable shirt. Mod creator, Dominus Kaine, has created shirts for your barbarian, both male and female. Real shirts are soon to come. 🙂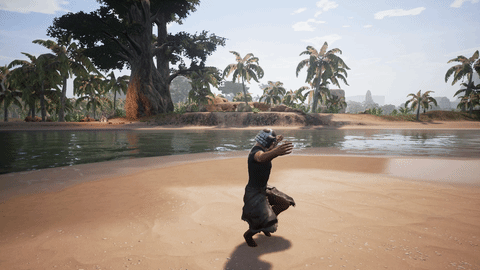 Capture the Thrall (Update!)
About 2 weeks ago we highlighted a very clever event that was brought together by "Tides of War". The event was held and they have now released a new video with highlights! It's an incredibly exciting video to watch, paired with the intense music. It appears to have been a great success!
Temples!
Reddit user "erganfr" once again makes it in our community highlights by having built amazing temples for both Mitra and Set. We implore you to see the entire photo album of these temples that show the incredible architecture and care that was put into creating and decorating them.
Get in Touch
Do you have any cool Conan Exiles stuff you want featured? Let us know! We're always looking through Steam, Reddit, Twitter, and other sources for your creations but if you'd like to contact us directly, you can do so in those links.