Dear exiles,
We hope everyone's had a good weekend and that the fall weather is treating you well. I'll keep the introduction short this week so we can get to the good stuff!
Current state of PC
Last week we pushed a new build to Testlive with some exciting changes. You can now interact with archer, fighter and dancer thralls and open their inventories. This means you can equip better armors and weapons and thereby increase their survivability and damage potential!
New thralls will only be clothed in the most basic, coarse tunic after you remove them from the Wheel of Pain. They'll still retain their weapons, so they can fight, but without armor they might not survive for long.
One side effect of introducing the thrall inventories was that you could no longer pickup these thralls once they have been deployed [due to inventory item restrictions]. This makes it more cumbersome to move thralls over long distances. We are therefore adding support for archer, fighter and dancer thralls to follow you around instead. This should make it easier to rearrange your defenses. The follow mechanics also opens up the doorway for rescuing thralls in the future.
We have also introduced repair kits and patch kits to complement the new and reworked repair system. These allow you to do partial repairs on weapons and armor sets, respectively. They become available at level 12 and you can unlock higher tier ones which are more efficient for repairs at higher levels. Finally, we added some more roofing pieces (bringing the total number of new building pieces up to 195) so you'll have more variety when building. We will update TestLive this week with bugfixes as well as the ability to tell thralls to follow you around, and we aim for the patch to go to Live during next week.
Current state of Xbox
Xbox was patched last week with a hotfix to take care of some memory and texture loading issues. We found an error where the game was using up too much memory, causing the client to crash. The version we rolled out last week seems to have helped a lot with client stability. Work continues on server stability with G-portal, our official server partner.
What the teams have been working on in the past week:
Every Friday, the entire development team meets up to discuss what they've been working on recently: New content and features, bugs that have been fixed, and things to come down the pipeline. The development team is split into cross professional Scrum teams that each have their own focus and tasks to complete. You can find their names and descriptions in the first community letter.
Vanguard (Bugs and exploit fixes and gameplay updates)
The Vanguard has been on the crash and bug fixing train this past week, resolving both inventory crashes and server crashes. Hopefully they make it into the game really soon. They've also been helping out team Berserkers by adding improved ragdolls for humanoids. As mentioned last week: knocking someone down with a giant hammer isn't the same if he doesn't go flying in a heap of limbs.
Other than that, there's been some changes to temperature and how building pieces will affect your character. Basically, we made them temperature resistant. Sandstone, for instance, is supposed to make you colder, but only past a certain threshold. If your character is warm, taking shelter in a Sandstone building will start to cool you down towards Temperate, the neutral state. It won't make you colder beyond 0. If you're already cold it won't push your temperature down further. If the area you're in is cold something like Insulated Wood can't make you any warmer, but it will try to bring you up to a neutral temperature. Which is how it should work.
Terraformers (New areas and content)
As revealed last week, the new dungeon is located inside the large Volcano in the north. Inside the volcano you will meet a new faction, who holds a mysterious attachment to the old ruins that rest at the center of the caldera, nestled atop a deadly lake of lava.
The Volcano will bring a new mechanic to the game that will challenge your skill and agility to even reach the dungeon at its heart.
Art team (Character designs, outfits, animations and effects)
The art team is still filling in the different gaps in the crafting system. There are a bunch of new weapons in the works, two of which you got to see last week. This week, two more! Expect to see more in the weeks to come. Beyond the traditional weapons, design work has begun on special weapons to capture thralls. Personally, I'm hoping for a net you can fire with a crossbow.
On the animation side the facial rig we finalized a few weeks back is being integrated into our motion capture system for future use. Finally, there's a new creature coming to The Frozen North, one we won't reveal just yet, but it's currently being animated. It's big, hairy, and will pose a significant threat.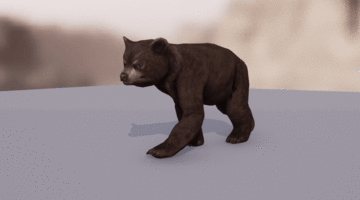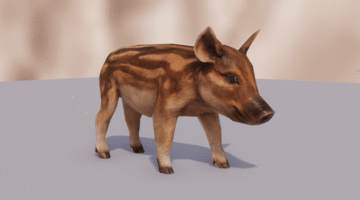 Those weren't the new monster, by the way. They're just adorable baby animals
Featurama
The Featurama team has been busy with optimization work, making sure everything in the game is working at a certain threshold of polish. They've been tackling FPS drops when destroying buildings and how to properly handle thrall equipment (thralls are very protective of their equipment).
Finally, they've started working on an upgrade to the weather system. This reworking will create more dynamic weather types and remove bugs from the older system.
The Berserkers (Combat and movement)
Combat prototyping is far from over and The Berserkers is moving into gameplay design to further iterate on the combat system in the game. They're looking at stacks, buffs, combo attacks and different weapon properties, and brainstorming how it all can fit together in Conan Exiles.
Something that's being considered is a more free-flow movement and combat system, where your character won't end up facing the camera during combat. It's still on the experimental stage, and might not make it into the game at all, but it's a possibility.
Tech and tools (Client and server stability and performance)
On the back-end side of things the tools team have been wrestling with the Unreal Editor, fixing whatever problems and crashes the developers might be having. They've also been working on extracting better crash data for future crash fixes.
The rest of the tech team have been working on improving stability and performance on the Xbox One, specifically by improving how the client loads and streams in game data. Previously you'd load in everything when jumping into a server or single-player game. This doesn't just take a while, but streaming in all that data can also cause the client to crash. We're now looking into a way to load in data in chunks and stream those to the player, hopefully improving stability and performance. There's no firm ETA yet, as it still needs more testing and polish. Don't expect it to come out immediately.
Wrapping up
This year, Funcom is sponsoring Splash Jam, a traveling game jam on a cruise ship travelling from Tromsø to Trondheim on the 18th to the 21st of October. Joel and myself, Jens Erik, will be attending and tweeting about the event on the official Funcom Twitter account.
Sincerely,
Funcom